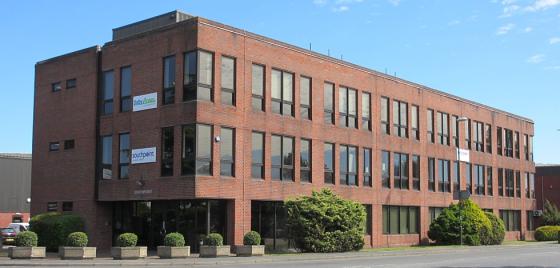 Southpoint provides fully equipped serviced office space, virtual offices and meeting rooms for the Gatwick and Crawley area, and it's home to BizWiseIT.  So, it made perfect sense for us to be involved with their refurbishment and expansion plans.  We have been based at Southpoint since 2015 and were involved with managing, designing and laying out a plan for the IT infrastructure for the building and the client rooms, as was the set-up back then.    
Fast forward eight years, and currently, the first floor of the building is configured as a service office centre, while the ground floor and second floors were occupied by Dolby Vivosol.  But the ground floor has now been converted to serviced offices to enable greater flexibility in offering space to local businesses.
The two floors have separate Cat 6 structured network cabling, which runs back to different comms rooms (Comms Room 1 and Comms Room 2), so part of our role has been to install Cat 6 cables to link the two comms rooms with one DrayTek managed switch.  These switches are Ethernet switches providing connectivity for all the Local Area Network (LAN) devices and power for Power over Ethernet (PoE) enabled devices. 
We set up virtual LANs on the main Southpoint office router in Comms Room 1 – this has been mapped to the 2nd Comms Room, which is managed by the DrayTek switch.  This switch will patch each room in the newly configured office space. 
In Comms Room 2, we installed a PoE 48 port switch for the phone handsets in the new ground-floor offices.
When a new client now takes one of the offices, we will simply set up their individual internet feeds using the virtual LANs. 
There are just the finishing touches to be applied, and Southpoint will then be ready to take on new local businesses.
If you're interested to find out more and view the office space available, visit www.southpointoffice.co.uk/